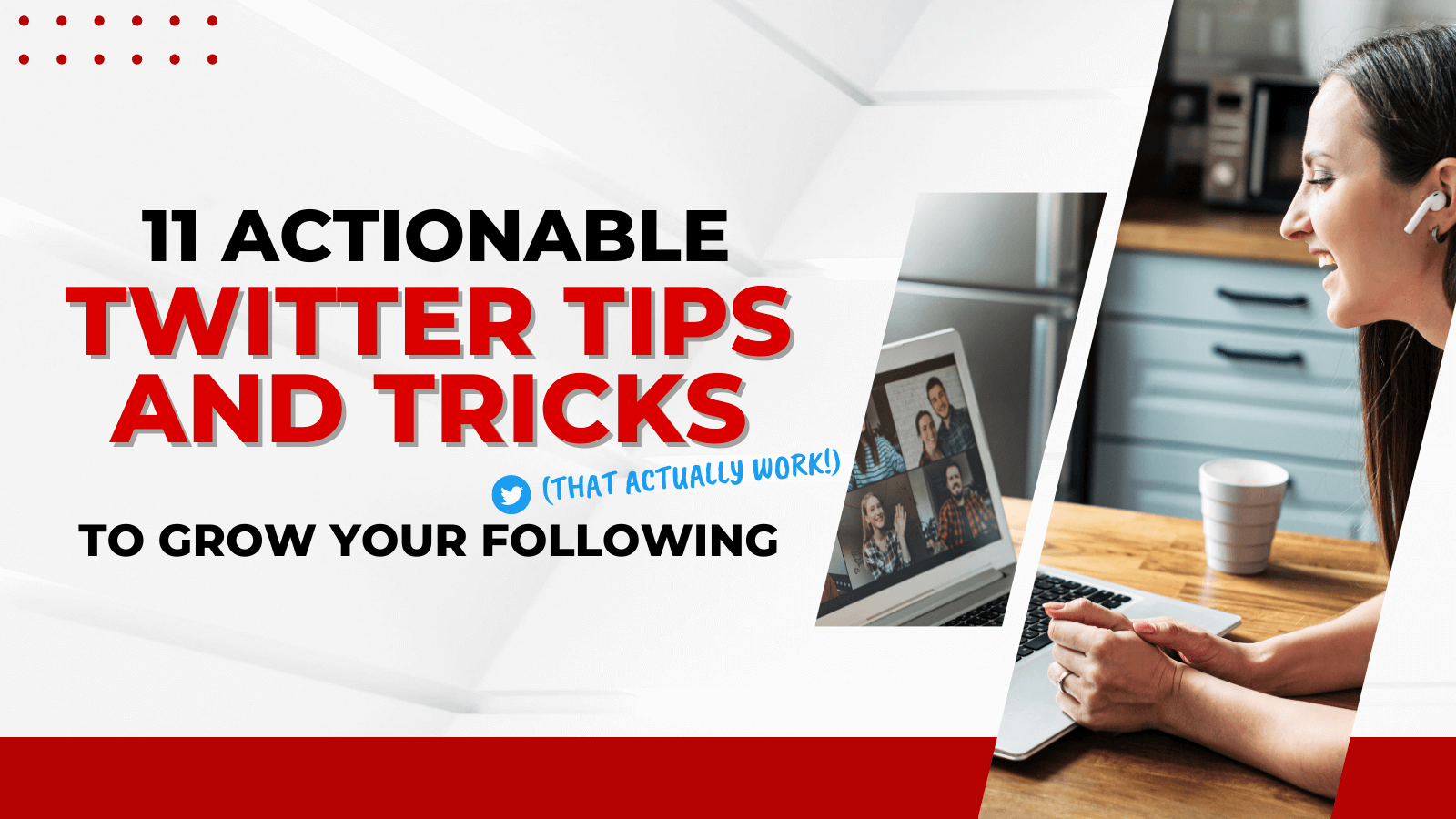 11 Twitter Tricks and Tips
Table of Contents:
Tip #1: Improve Your Twitter Profile.
Your profile is the first thing that people see. When people come across your Twitter account, make sure it looks attractive.
Here are some Twitter tricks and tips for a better profile:
Your profile picture: Add a professional profile photo. It can be your company's logo or your image.
Your cover photo: Add an eye-catching cover photo. You can use this space to promote your brand or any ongoing offer/discount.
Your bio: Write a short and sweet bio that gives an idea of who you are. You can also add a link to your website or any landing page.
Tip #2: Use Relevant Hashtags.
Hashtags are a great Twitter trick and tip to reach out to a larger audience. When you use relevant hashtags, it makes it easier for people to find you. But make sure that you don't use too many hashtags in a single tweet, as it looks spammy.
Tip #3: Interesting and Engaging Content.
Post great content. People will not bother to follow your tweets if your tweets are not attractive. So, make sure that you post tweets that are interesting and engaging. You can share industry news, tips, advice, infographics, etc.
If you are not sure what to post on Twitter, I have a blog for you. 121 Social Media Post Ideas – Never Get Writer's Block Again! It shares a long list of social media post ideas. If you want a quick reference, get the cheat sheet!
Tip #4: Retweet and Like People's Tweets.
Retweeting and liking other people's tweets is a great Twitter trick and tip to get their attention. When you do this, there is a high chance that they will check out your profile and follow you back.
Tip #5: Run Twitter Competitions.
Running Twitter contests is a way to engage with your followers. You can ask people to retweet your tweets or use a specific hashtag in their tweets.
Tip #6: Use Twitter Advertisements.
Twitter ads help reach out to a larger audience and get more followers. You can use different Twitter ads, such as promoted accounts, tweets, and trends.
Tip #7: Host a Twitter Chat.
Hosting a Twitter chat engages with your followers and gets more followers. You can choose a relevant hashtag and host a discussion on Twitter. Hashtags will help you connect with like-minded people and get more followers.
Tip #8: Collaborate With Influencers.
Working with influencers is a fantastic way to get more followers. When you collaborate with an influencer, they will promote your Twitter account. This gives you exposure to their followers. The collaboration will help you get more followers.
Tip #9: Use Twitter's Tools.
Twitter tricks also include Twitter tools. And tips This is because it can help you get more followers. Some popular Twitter tools are Hootsuite, Buffer, TweetDeck, etc.
Tip #10: Provide Customer Service.
Offering customer support on Twitter is a terrific way to engage with your followers. And a great way to get more followers. When you offer customer support, people will appreciate it. There is a high chance that they will follow you in return.
Tip #11: Be Active and Consistent.
For more followers on Twitter, you need to be active and consistent. You need to post tweets regularly and interact with your followers regularly.
Conclusion:
So, these are the 11 simple Twitter tricks and tips that you can use to get more Twitter followers. Follow them consistently, and you will see a difference in your follower count.